Foundation Home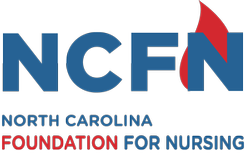 Foundation Home
The North Carolina Foundation for Nursing is a nonprofit, 501(c)(3) corporation. Funding to support the Foundation and its activities comes from individual contributions, business donations, bequests, recognitions, and memorials.
Please show your support for the NC Foundation for Nursing by donating today.
You can use the donate button below to pay with your checking account, debit, or credit card. Thank you for your support!
---
Honor a Nurse
The North Carolina Foundation for Nurses recognizes nurses who are nominated by patients, colleagues, and friends. The Honor a Nurse campaign recognizes:
Alex Jackson
Krista Ward Hardee
Kim Slusser
Dianne Daniels
Martha Bramlett
Tracy Arnold
Jim McCorry
Do you know someone who deserves recognition? To honor a nurse, follow the two steps below:
We'll send them a letter, telling them about your special tribute and post their name to this page for one year!
---
Our Mission:
The purpose and goals of the Foundation are to secure and administer funds directed toward:
education that assures that registered nurses are prepared to meet the current and changing health care needs of North Carolina citizens;
research that identifies the value of registered nurses in health care delivery; and,
activities that publicize the value of registered nurses in health care delivery.
Executive Director: Tina Gordon
919.821.4250
Fax: 919.829.5807
4350 Lassiter at North Hills Avenue
Suite 250
Raleigh, NC 27609