Political Action Committee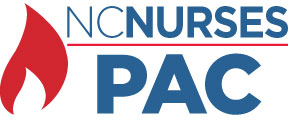 Make Your Voice Heard
Support the NC Nurses PAC!


The NC Nurses PAC is the vehicle for NCNA members to promote candidates, including registered nurses, seeking elected office in North Carolina with strong records of supporting nurses and their efforts to provide quality healthcare for patients. NC Nurses PAC is funded by voluntary contributions from NCNA members and other nursing advocates. The goal of the PAC is to financially support candidates who have demonstrated a commitment to nurses, the nursing profession and legislation leading to positive outcomes for the health and welfare of all North Carolinians.
Increasing the individual donation amount and number of contributions to the NC Nurses PAC will allow NCNA to develop more relationships with candidates seeking election to the North Carolina General Assembly. The improved relationships between NCNA and policymakers will dramatically enhance the presence of lawmakers who support nurse-friendly legislation.
The activities of the NC Nurses PAC are operated with total separation from the public policy component of the NCNA Legislative Program.

Members of NCNA must take an active role in financially contributing to the PAC. By contributing to the NC Nurses PAC, NCNA members are raising their voices to move Nursing Forward®. Donating to the PAC shows NCNA members appreciate candidates who support legislative efforts that create a positive work environment for each nursing professional to practice and provide quality care for their patients. Please consider donating to the NC Nurses PAC.
Mail Form/Check: NC Nurses PAC Contribution Form