Member Spotlight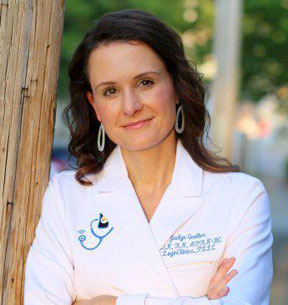 Jaclyn Qualter, RN, MS, APRN-BC, founder and Nurse Practitioner at LoginClinics, PLLC, has spent 20 years in nursing. She has a passion for healthcare and loves her job. She's been a part of healthcare overhaul in a variety of settings and has seen some major changes for better and worse.
Jaclyn initially planned to leave nursing to become a PA, but Dr. Janie Health, one of Jaclyn's professors at Georgetown, changed her mind. Dr. Health's passion for nursing and the way that nursing can make a difference was contagious.
As a new nurse, Jaclyn used to sit in her car every morning and pray that she wouldn't harm anyone. She was so scared that she would do something wrong while working in the NeuroSurgical ICU. While it was a tough job and she did make mistakes, she would leave at the end of the day feeling like she'd made a real difference for both patients and their families. After her first year of nursing, the feeling she had at the end of a 12-hour shift was irreplaceable.
"I learned that part of the reason I went into nursing was because I liked making people happy," Jaclyn said.
While the sentiment was right, she found that she wanted to make other people happy to make herself happy, and that wasn't where she wanted to live. "If you do live here, you may experience burn out when you cannot make people happy. It was a great lesson and now I am able to help others and sometimes see their gratitude and happiness."
Jaclyn started LoginClinics, a telemedicine clinic, after having a dream about providing easy, affordable access to quality Nurse Practitioner care online and started the process of exploring how this would work. Her efforts coincided with the SAVE Act's introduction, and she's hopeful that full practice authority will come to fruition soon. "Nurses are a beautiful and diverse group of professionals who are empowered to make an impact locally and globally, and I am so proud to be a part of this movement- and a part of NCNA!" she said.
When working with patients, Jaclyn meets them where they are. She assesses how ready they are to receive the information she has to give them and delivers it in a way that they can understand it. Sometimes that's followed by a hug or a "you can do this." She wants her patients to feel empowered about what they can do and to provide them with resources. Understanding people and meeting them where they are in their healing process is something Jaclyn prides herself on doing. She sees the need for easier access to care and is developing a business to provide that.
Jaclyn's Advice for a New Nurse: Hurt people hurt people. It's our job to be a light into that darkness.
Favorite Quote: "They may forget your name, but they will never forget how you made them feel" - Maya Angelou

NCNA thanks you for being a part of our community and for your passion for nursing, Jaclyn!

Are you an NCNA member with something to share? Fill out a submission form here to be considered for an upcoming spotlight.
Jaclyn's Advice for a New Nurse: Hurt people hurt people. It's our job to be a light into that darkness.